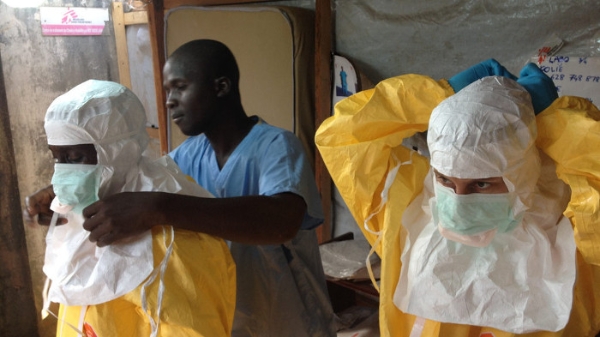 On October 8, ADRA International, in partnership with GlobalMedic and ADRA Canada, will send containers of Personal Protective Equipment (PPE) to Cooper Hospital in Liberia and Waterloo Hospital in Sierra Leone. The shipment includes:


•700,000 facemasks
•97,000 isolation gowns
•45,000 splash shields
•100 Tyvek isolation suits
This follows up the partnership's most recent shipment of $92,000 in equipment and supplies to Cooper Hospital and the Liberian Ministry of Health and Social Welfare.
The Ebola Virus Disease (EVD) outbreak continues to accelerate, with almost 40 percent of the total cases occurring in the past 21 days. As of September 30 there have been a total of 6,553 cases and 3,083 reported deaths across Guinea, Liberia, Nigeria, Senegal and Sierra Leone. The case fatality rate in affected countries is as high as 70 percent, with an estimated 22.34 million people living in areas where active EVD transmission has been reported. The large number of cases in high-population density settings and remote, hard-to-access villages makes the outbreak particularly difficult to contain.
In an effort to further reduce the number of cases in the worst Ebola crisis in history, ADRA is working toward community mobilization against the spread of infection in Liberia and Sierra Leone. ADRA Liberia is implementing a three-month project with funding from ADRA International, activities of which include a community health education campaign, the establishment of community health committees and hand washing facilities, and the provision of household survivor kits.
In Sierra Leone, ADRA is providing psychosocial support to victims and families, community outreach in public places, production and distribution of relevant information, and partnerships with radio and television programs to further disseminate prevention information.
"Prevention is our top priority in bringing an end to this crisis," said David Holdsworth, Associate Director of Material Acquisition for ADRA International. "Only through education and proper patient handling can we reduce the spread of Ebola."


Author : Michael Rohm, ADRA International