With the closing of the "Balkan route," which led refugees to northern European countries,
tens of thousands of migrants are forced to live in dilapidated conditions
Balkan borders have closed to refugees seeking safety in Europe. The Adventist Development and Relief Agency
(ADRA) has turned much of its attention to refugees and migrants stranded in Greece, and those seeking legal asylum.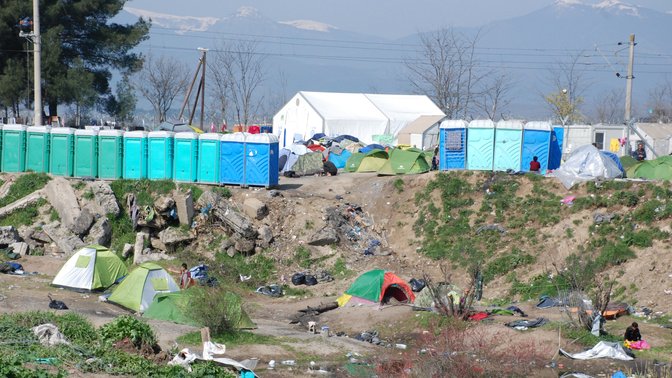 Photo of a refugee camp in Greece. [Photo courtesy of ADRA International]
GREECE
ADRA's emergency response team (ERT) was deployed to Greece in March. Staff members from ADRA Slovakia
have been distributing hygiene kits to refugees in Idomeni, as well as providing psychosocial support to many in
the camps who have been traumatized by their experiences.
The ADRA network is also implementing a larger project across three camps to continue hygiene kit distribution
and psychosocial counseling, but also to include distribution of fresh food and information leaflets.
With borders currently closed, Greece has become the front line of the European crisis. There is a growing
bottleneck for refugees and migrants traveling from Turkey, with close to 100% crossing by sea to Greek islands.
From there, most travel by ferry to mainland Greece and continue their journey to Idomeni on the border with
Macedonia, where they remain because they are no longer allowed to cross.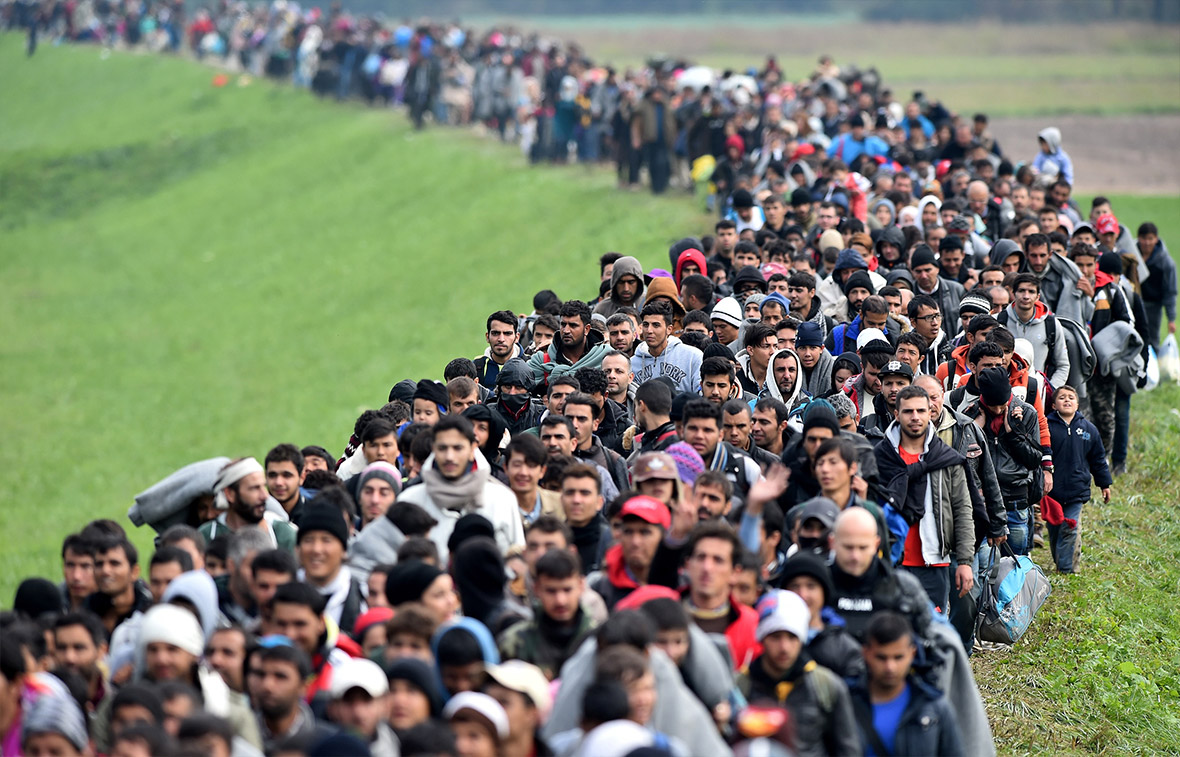 Photo of refugees in moving across Central Europe. [Photo courtesy of International Business times ]
The refugee camps in Greece were built as a short-term solution for those traveling through to other destinations,
and the deplorable conditions are not suitable for the length of time that families are now staying. The UNHCR
estimates as many as 44,000 are trapped here, and 60% of those still arriving by sea are now women and children
who suffer the most from long queues for food and inadequate shelter and hygiene.
An agreement between the European Union and Turkey has added much uncertainty to the volatile situation as
boats have now started returning small numbers back to Turkey.
ASYLUM SEEKERS
New refugees are not able to cross Balkan borders, but many remain in those countries seeking legal asylum.
The numbers are much smaller than the tens of thousands that ADRA staff were dealing with on a weekly or
daily basis.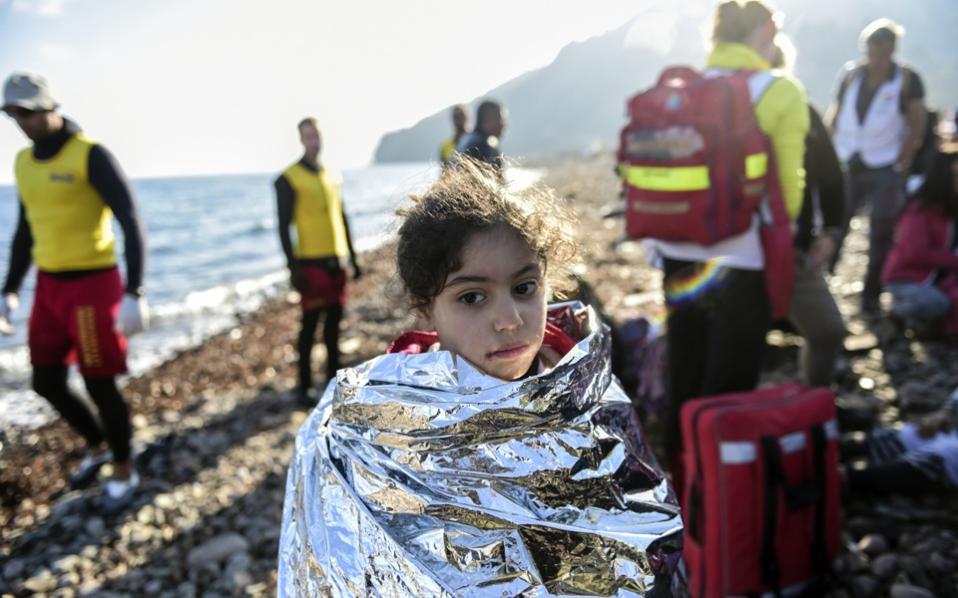 Photo of a girl in the refugee camp . [Photo courtesy of Ekathimerini.com]
A few examples of ADRA's current work in these countries:
ADRA Macedonia has established a children's play zone, where little ones can play with toys and parents,
often mothers traveling with children alone, are able to take a break.
ADRA Slovenia is working diligently in local centers where asylum seekers are residing. There are many gaps
in providing for this group because of the rapid shift in refugee strategy.
ADRA Serbia's information center in Belgrade is providing essential assistance to asylum seekers, helping
connect them to local services and items they need.
Posted on: April 12, 2016 | ADRA International Staff
--------------------------------------------------------------------------------------------
아드라 발칸루트를 차단당한 그리스 거주 난민 지원
북유럽으로 피난하는 난민들의 핵심경로인 발칸루트가 차단됨으로 수 천명의 이민자들은 열악한 난민촌에 수용되고 있다.
아드라 슬로바키아는 아드라 비상대처팀(ERT)을 그리스로 파견하여 이도메니 난민촌에 위생용품세트를 배급하고 전쟁으로 인한 트라우마를 겪는 사람들을 위해 정신사회치료를 제공하였다.
국경이 차단되어 그리스는 유럽 위기의 최전방에 서게 되었다. 터키에서 탈출한 난민들과 이민자들은 바다를 거쳐 그리스 섬으로 건너가고 그곳에서 나룻배로 그리스 본토 내의 마케도니아 국경과 인접한 이도메니 난민촌으로 향한다. 이들은 더 이상의 국경을 넘는 것이 허용되지 않기 때문에 이곳에 머물게 된다.
난민캠프는 타지역으로 이주하기 위해 거쳐가는 이들을 위한 단기적인 해결방안이며 이곳의 환경은 사람이 거주하기에 매우 열악하다. UNHCR은 약 44,000명의 발이 이곳에 묶여있으며 그 중 60%는 배고픔과 허술한 피난처 및 위생으로 극심히 고통받는 여성과 아이들이라고 밝혔다.
새로운 피난민들은 발칸국경을 넘지 못하고 거주 중인 나라에서 공공 보호시설을 찾고 있다.
각 국가 아드라 지원상황:
아드라 마케도니아는 놀이터를 지어주어 아이들이 뛰어놀고 부모와 혹은 홀몸으로 아이들을 데리고 다니는 어머니들도 쉴 수 있는 공간을 마련해주었다.
아드라 슬로베니아는 피난민들이 거주하는 지역센터에서 봉사해주었다. 잦은 피난민 정책 변화로 불편함이 있다.
아드라 세르비아가 운영하는 베오그라드 안내센터는 피난민들에게 필요한 지원을 하고 지역 서비스와 물품들을 이용할 수 있도록 보조한다.